Sun Prairie Utilities Scholarship Essay
TECHNICAL EXCELLENCE SCHOLARSHIP (TES)
Beginning in 2015, Technical Excellence Scholarships were awarded to Wisconsin high school seniors who have the highest demonstrated level of proficiency in technical education subjects. The number of scholarships each high school is eligible for is based on total student enrollment.
The scholarships are only for use at a Wisconsin Technical College within the Wisconsin Technical College System (WTCS) located within the state. The value of the scholarship is up to $2,250 per year, to be applied towards tuition. Half of the scholarship is funded by the state and the institution matches the other half.

Eligibility for the TES scholarship does not exceed 6 semesters, or a total of three years. Semesters are defined as fall or spring semesters, not summer sessions or other shorter sessions
In order to receive a TES scholarship, a student must be enrolled on a full-time basis by September 30th of the academic year following the academic year in which he or she was designated as a scholar, at a participating Wisconsin Technical College in the state. (Recipients of TES scholarships may NOT wait to claim the scholarship for one year after high school graduation, but after completing one year a student may take up to one year (gap year) off from school and reclaim the scholarship upon their return to enrollment.
No student may receive both a TES scholarship and an Academic Excellence Scholarship (AES), an existing program under HEAB that was a model for the TES program.
Eligibilitycriteriaforcandidates:
Like most financial aid programs, the TES program requires a scholarship recipient be a resident of Wisconsin according to the residency standards of s. 36.27, Wis Stats. A recipient must be a citizen of the United States or an alien lawfully admitted for permanent residence by the Federal Immigration and Naturalization Service. A scholarship recipient is also required to have registered with Selective Service. In addition, an eligible candidate for a TES scholarship is a high school senior meeting the following criteria. A. In order to be eligible for nomination to a TES scholarship, a student must exhibit interest in and planning for a technical career. - A student's school counselor or principal must affirm that the student has post-secondary plans related to a career in technical education. (This affirmation will be made in the nomination form for TES.) - A student must have an academic and career plan leading to a career in technical education. (This requirement refers to the academic and career plans required under s.115.28 (59), instituted in the 2013-15 biennial state budget; see 2013 Wisconsin Act 20.)
B. In addition, in order to be eligible for a TES scholarship, a student must also have completed at least one of the following eight eligibility items. Students awarded a TES scholarship must have:
i. Be a CTE Concentrator, which is a high school student who has completed at least three (3) high school CTE courses (career and technical education courses) in program area(s) leading to a degree or diploma in the student's chosen pathway.
- A student may be enrolled in (rather than have completed) the third course at the time of their nomination for TES.
- The definition of "CTE course" is to be that definition approved by the board of the Wisconsin Technical College System (WTCS) under the Carl D. Perkins Career and Technical Education Act of 2006, P.L. 190-270 "Perkins IV", which is: a secondary-level course offered through the DPI-recognized program areas of Agriculture and Natural Resources Education, Business and Information Technology Education, Family and Consumer Science Education, Health Science Education, Marketing Education, or Technology and Engineering Education; such courses must be taught by a CTE instructor licensed for that specific discipline, except that courses in Health Science Education may also be taught by a health education instructor and/or a science licensed instructor.
ii. Participated in a Youth Apprenticeship Program under the supervision of the Wisconsin Department of Workforce Development (DWD) (see https://dwd.wisconsin.gov/youthapprenticeship/program?info.htm)
iii. Participated in a Technical High School Diploma program as certified by the Wisconsin Department of Public Instruction (DPI) (see http://cte.dpi.wi.gov/cte_tehsd)
iv. Participated in a Career and Technical Training pathway as defined by the Wisconsin Department of Public Instruction (DPI) (see http://cte.dpi.wi.gov/cte_clustersandpaths)
v. Participated in a Skills Standards Program offered by the Wisconsin Department of Public Instruction (DPI) (see http://cte.dpi.wi.gov/cte_cteskills)
vi. Completed (or be on track to complete) an industry-recognized certification program approved under Wis. Stats. 115.367(2). (This requirement is created under 2013 Wisconsin Act 59).
vii. Participated in a Career and Technical Student Organization (CTSO) in Wisconsin: DECA, FBLA, FCCLA, FFA, HOSA, or Skills USA (see http://cte.dpi.wi.gov/cte_ctso)
viii. Completed a technical training program for high school students if hte program is offered by a UW System school, a Wisconsin Technical College System school, a tribal college in Wisconsin, or a private nonprofit college or university located in Wisconsin. Examples include but are not limited to:
Medical College of Wisconsin Summer Enrichment Programs
UW-Madison's Summer Science Institute at WIScience
Marquette University's K-12 Engineering Academies
MSOE summer programs for K-12 students
The program must be offered BY a Wisconsin college or university; programs held at these campuses but offered by others are not eligible. (Such programs are usually of shorter duration.)
For a student to be considered for this award, a "Student Request for Consideration for the Wisconsin Technical Excellence Scholarship" must be completed and returned to the SPHS Student Services office no later than March 21, 2018 at 3:30 pm. The form is attached below for your use.
Student Request for Consideration form

Posted: Saturday, June 17, 2017 11:00 am
Sun Prairie School Notes: Class of 2017 scholarships 0 comments
More about Class Of 2017
More about Scholarships
Posted in Community, College Notes on Saturday, June 17, 2017 11:00 am. | Tags: Class Of 2017, Scholarships, Senior Scholarships
PreviousNext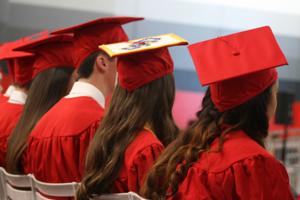 Meghan Chua photo
Class of 2017
Members of the class of 2017 at their commencement ceremony, held June 9.
Buy this photo
Members of the Class of 2017 at Sun Prairie High School received various awards and scholarships at the end of the year. 
The recent graduates who won scholarships and awards from local organizations or their colleges are listed below.
Aleman, Nikki - Rhonda Sue Smith Grant
Anderson, Amber - Jim Diedrich Memorial Fund Scholarship, SPHS Academic Excellence Award, Wisconsin Academic Excellence Award
Austin, Kathryn - UT Dean's Scholarship, SPHS Student Council Award
Banach, Angelyn - Friends of Unity Point Health –Meriter Scholarship
Barnet, Madison - Friends of Unity Point Health– Meriter Scholarship, Lou Bradley Scholar Athlete Award, Token Creek Lion's Club Scholarship, SP Lion's Club-Leo Club Scholarship
Bauman, Maggie - Sun Prairie Substitute Teachers Scholarship
Blair, Alyssa - American Legion Americanism & Government Test Scholarship
Brehmer, Kelly - SPHS Student Council Award, SP Lion's Club Scholarship
Bryan, David - SPHS Athletic Achievement Award
Chestnut, Miguel - SPHS Athletic Achievement Award
Cloer, Savanna - Anonymous Scholarship
Clostermery, Reese - Jackson Steele Memorial Scholarship
Davidson, Bridget - Ken Paris Music Scholarship, UW Health Scholarship
Di-Lorenzo, Hannah - Anonymous Scholarship
Dunn, Samuel - VFW Patt Steiner Memorial Schoalrship
Durow, Kathryn - SPEA Educational Scholarship
Ehrler, David - Italian-American Women's Club Scholarship, Anonymous Scholarship
Ellis, Brooklyn - UW-Richland Eunice Hayes Melville Memorial Scholarship
Finucane, Claire - SPHS Academic Excellence Award, Wisconsin Academic Excellence Award
Florek, Nathan - Chris Gibson Memorial Scholarship
Franklin, Kimberely - American Legion Auxiliary Unit 333 Scholarship, American Legion Friends of Post 333 Scholarship
Friese, Logan - Giving Spirit Scholarship
Gaddis, Daneia - SP Lion's Club Vocational Scholarship
Grajkowski, Kara - MAREA Scholarship, VFW Post 9362 Outstanding Citizen Award, American Legion Fred Gerber School Award, SPHS Student Council Award, Chris Gibson Memorial Scholarship, Sun Prairie Substitute Teachers Scholarship
Greenberg, Mallory - Elsie Czehno Daughter Scholarship
Groeschel, Jenna - St. Cloud State University Presidential Scholarship
Gugger, Lane - Chris Gibson Memorial Scholarship
Gunderson, Jonathan - Sun Prairie Utilities/WPPI Energy Scholarship
Hadley, Justice - UW-Madison Curt Culver Scholarship, Sun Prairie Optimist-Orville Frank Scholarship, SPHS Student Council Award, List Scholarship
Hauser, Benjamin - Air Force Academy Award , American Legion Bob Mitchell Athletic Award, Chris Gibson Memorial Scholarship, SPHS Academic Excellence Award, Wisconsin Academic Excellence Award
Henry, Kaitlyn - Dr. R. Nelson Bakke Scholarship
Hodges, Justin - SPHS Athletic Achievement Award, Sun Prairie Wrestling Scholarship
Hopson, Shyenne - Anonymous Scholarship
Hutler, Emily - Sun Prairie Rotary – Clarence Grundahl Award
Jacobs, Genevieve - UW-Madison Thoresen Scholarship
Jatta, Madlene - Anonymous Scholarship, Madison College – Scholars of Promise
Jatta, Nicholas - Global Citizen Award
Kaminski, Claire - American Family Insurance Dreams Foundation Scholarship
Kapugi, Kielyn - Bank of Sun Prairie Scholarship
King, Spencer - Judy Franken Memorial Scholarship
King, Tyler - UW-Madison Powers-Knapp Scholarship, Lou Bradley Scholar Athlete Award
Knudten, Anna - SP Lion's Club Scholarship
Kovach, Landon - SPHS Athletic Achievement Award
Kromke, Madison - Dr. R. Nelson Bakke Scholarship
Lohr, Christopher - Doug & Claudia Ayers Scholarship
Loos, Dalaney - Anonymous Scholarship
Mamou, Aisha - Anonymous Scholarship
Martinez, Alejandro - SP Lion's Club Vocational Scholarship
Masson, Maria - Carolan Family Scholarship, SPHS Student Council Award
Miller, Ravyn - Missouri Western State Univ-Governor's Scholarship, Missouri Western State Univ-Leadership Award, Missouri Western State Univ-Scanlon Service-Scholar Scholarship, Rachel Veum Sun Prairie Lacrosse Scholarship, American Family Insurance Dreams Foundation Scholarship
Moe, Madeline - UW-Platteville Pioneer Recognition Award, VFW Patt Steiner Memorial Scholarship, SPHS Student Council Award
Mosser, Tyler - Wisconsin Technical Excellence Award
Murillo, Jessica - SPEA Vocational/Technical Scholarship
Nadolski, Madelyn - Kate Lynn Qualey Memorial Scholarship
Nelson, Troy - SPEA Vocational/Technical Scholarship
Nettum, Josephine - SPHS Women's Swim & Dive Team Scholarship
O'Connell, Alexis - Sun Prairie Chamber of Commerce Scholarship, National DECA Walgreens Scholarship, Dane County 4-H Scholarship
Peterson, Hannah - MBE CPAs Scholarship
Peterson, Jordyn - Knox College—Muelder Scholarship, Knox College—Founders Scholarship, McFarland State Bank Scholarship
Peterson, Jarrid - Wisconsin Technical Excellence Award
Pfann, Natalie - SPHS Track & Cross Country Booster Club Scholarship
Plesh, Benjamin - Sun Prairie FFA Alumni Scholarship
Powers, Rachel - Lou Bradley Scholar Athlete Award
Presser, Samuel - Sun Prairie Wrestling Scholarship
Pringle, Trista - Lou Bradley Scholar Athlete Award, American Legion Bob Mitchell Athletic Award, SPHS Track & Cross Country Booster Club Scholarship
Rademacher, Carlie - United Cooperative Scholarship
Rahaman, Ryley - SPEA Educational Scholarship
Reindl, Joseph - Brown University Scholarship, Madison Elks Lodge #410 Scholarship, Sun Prairie Youth Bowling Association Scholarship, WI State USBC Women's Bowling Association Scholarship, Sun Prairie Rotary-Robert Devenish Scholarship, SPHS Academic Excellence Award, National Merit Semi-Finalist, Wisconsin Academic Excellence Award
Richmond, Gracelyn - American Legion Auxiliary Unit 333 Scholarship, SPHS Academic Excellence Award, Wisconsin Academic Excellence Award
Robinson, Shijuan - SPHS Athletic Achievement Award
Rullman, Nathan - Sun Prairie American Legion Scholarship
Rybak, McKenzie - Columbus Community Hospital Health Career Scholarship, Jackson Steele Memorial Scholarship
Sands, Joshua - Jackson Steele Memorial Scholarship
Schellpfeffer, Madeline - Lou Bradley Scholar Athlete Award
Sercye, Adriana - Sun Prairie Rotary – RICE Scholarship
Schmitt, Mena - American Legion Lawrence & Pat Schuster Scholarship
Sharma, Aditya - National Merit Commended Student
Smith, Nathan - West Point Military Academy Award
Sondgeroth, Nathan - UW-Madison Frawley, Dorothy Marshall Scholarship; Sun Prairie Utilities/WPPI Energy Scholarship, SPEA Scholarship, National Merit Semi-Finalist
Stojanovich, Natalie - SPHS Student Council Award
Strobel, Gabriela - Sun Prairie FFA Alumni Scholarship, Sun Prairie Chamber of Commerce Scholarship
Swanton, Olivia - MSU National Spartan grant, MSU Red Cedar Scholarship
Thomas, Hanna - Anonymous Scholarship
Trimble, Kiry - Charles Carroll Scholar Award, Hilger Tradition Award
Szymborski, Helena - University of Missouri-KC—Conservatory Scholarship, National Merit Commended Student
Van Pietersom, William - Marine ROTC Award, SPHS Athletic Achievement Award, Sun Prairie Wrestling Scholarship, Chris Gibson Memorial Scholarship
Vang, Mai Der - Global Citizen Award, Anonymous Scholarship
Vedvik, Sophia - VFW Post 9362 Outstanding Citizen Award
Wagner, Colton - Wisconsin Technical Excellence Award
Wagner, Samual - Chris Gibson Memorial Scholarship
Wherley, Emily - St. Norbert Presidential Scholarship
Wilson, Alexandra - Sun Prairie Exchange Club-Randall Reeks ACE Award
Winter, Victor - Wisconsin Technical Excellence Award
Woloszyk, Luke - Wisconsin Technical Excellence Award
Wu, Jason - American Family Dream Scholarship
Yee, Grant - Bank of Sun Prairie Scholarship, Chris Gibson Memorial Scholarship, Jackson Steele Memorial Scholarship, American Family Dreams Foundation Scholarship
Zacher, Hannah - Jackson Steele Memorial Scholarship
Ziegler, Connor - VFW Post 9362 Outstanding Citizen Award